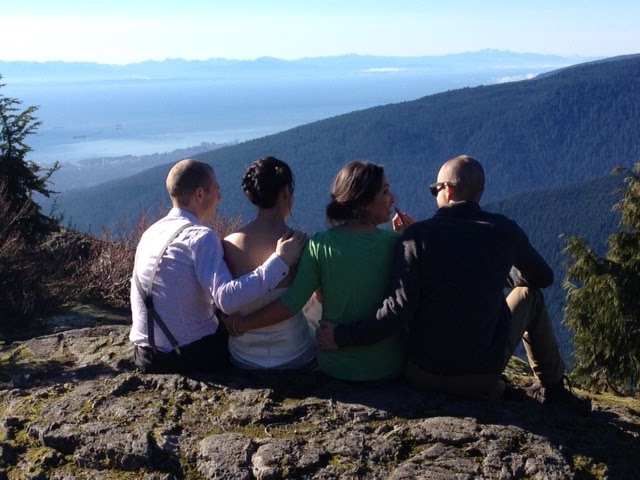 I'm not sure how this all started, but I've been officiating the weddings of friends and family for almost 15 years. But this year I've joined a group of fabulous officiants and will be doing the weddings of perfect strangers! It's a new adventure and one that I'm thrilled to begin. Here is how it officially started:
Shawn called asking if I was available to do a wedding Sunday morning (it was Thursday). "It's an elopement near Mt. Seymour." Eager to officially get started with Young Hip & Married, I said, "Sure! Send me the details."  And then he added, "So, the couple wants to do a 45 minute hike to the wedding site – are you ok with that?"  I knew the forecast for the weekend:  after two weeks of miserable rain, I would be hiking to a wedding ceremony on the most beautiful day of the year! "Sure, I'll hike" – but (in typical Jane fashion) I began to wonder, what does one wear when hiking to a wedding site?
After a brief chat with the couple, it was determined I should definitely wearing hiking boots because this was going to be a muddy, rooty, potentially icy hike. "But we are going to wear our wedding clothes! Fiona is wearing her wedding dress, long underwear and hiking boots!"  "Uh, ok?"  I attempted to look fancy while hiking by wearing all black.
I headed up to Seymour and quickly spotted a few people gathered around a big bouquet of sunflowers in the busy, snow-less parking lot.  Anne-Marie was snapping photos of the prep work as we tried to figure out a way to get the flowers and snacks (read: beautiful picnic) to the site. The trail was busy with onlookers applauding Fiona's efforts to hike in her wedding dress! Although the trail was very washed out and rooty because of the lack of snow, she managed to make it to the site with minimal dirt on her dress.  After about 90 mins of hiking (with stops for photos) we made it to the most spectacular spot for a wedding.  
The options for the backdrop included an ocean and entire city view or a mountainesque scene. We got settled and chose the perfect spot for Eric and Fion to recite their beautiful, personally crafted vows, exchange rings and first wedded kiss. There is something about handwritten vows that bring an element of surprise to the ceremony. They wrote the vows separately and revealed them in the moment. Their friends, who were instrumental in their meeting, joined me in witnessing a simple yet profound moment of love. We all relaxed in the sun between a variety of photo shoots and then headed back down the trail.
I was so thankful to be able to help this lovely couple (who I later found out live just a few blocks from me!) have their perfect mountain top experience! I'm looking forward to joining more couples on their big day in my first wedding season with Young, Hip & Married