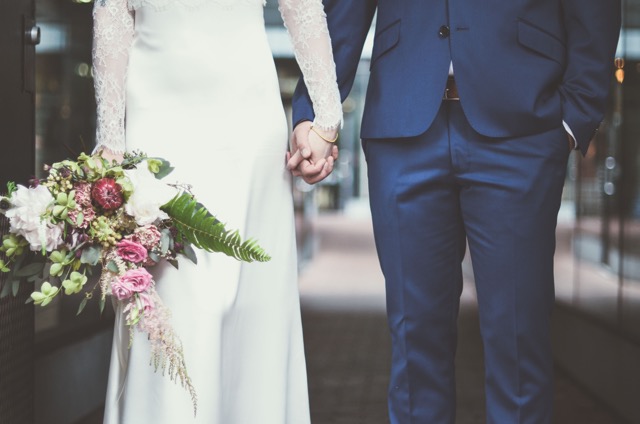 We are so excited to kick off the 2016 wedding season with our first blog post on the new site! Here are a few snaps from Tara & Kevin's Buffy-infused wedding ceremony with Jane at The Diamond in Gastown (yes, they do weddings!!).
How do you incorporate a TV show into your wedding ceremony?
Whether it's The Office or Buffy the Vampire Slayer, some couples like to incorporate their love for the silver screen into their wedding ceremony. And we are here for it! If there's a TV show or movie that you love and that is meaningful to the two of you, why not include it in your wedding ceremony? We love ceremonies that are unique to our couples!
Here are a few ways to incorporate your fave show into your wedding ceremony:
Add a reading. Find a

reading from your favourite TV show or movie

and add it to your ceremony. An honoured guest or your officiant can read it out loud.
Put a quote into your vows. If there's a quick quote or inside joke from the show, a great place to include that is in your personal vows to one another.
Pay homage to the style. You can embrace your favourite show by making it the theme of your wedding. Think Game of Thrones outfits or flowers reminiscent of your favourite Disney movie.
Tara and Kevin's ceremony included their favourite movie and show quotes, the best junior bridesmaids, and lots of fabulous friends raising a glass to the deep love of this great couple.
What's a junior bridesmaid?
A junior bridesmaid is a role usually given to a young girl who feels too old to be a flower girl but too young to be a bridesmaid. This is often a great role for children of the couple, siblings or close friends. A junior bridesmaid is part of the wedding party and often feels like a more mature title for children who have outgrown the roles of flower girl or ring bearer. But this person often isn't as involved in more adult bridesmaid duties, like planning a bachelorette party.
Here's what Tara and Kevin had to say about their Gastown wedding ceremony:
"It was such a special day. Everything was perfect and we wouldn't have done anything differently! The ceremony was our favourite part of the day and that was the part I was most nervous about, thank you for everything!"
I'm sure we'll see more awesome photos soon by Limes and Lemons