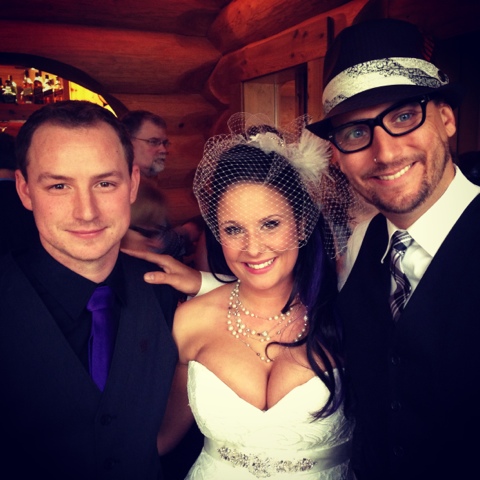 Let's get to know Vancouver Wedding Officiant Shawn Miller!
If you're new around here, allow us to introduce you to the man, the myth and the legend: Shawn Miller. Shawn is not only our lead officiant but he's the co-founder and co-owner of Young Hip & Married, alongside his wife and our lead elopement photographer, Erica Miller.
Shawn and Erica were married in 2004 and have been growing their relationship, their family and their businesses ever since. In 2011, they started a relationship coaching business and began adding wedding officiants to their roster. As the business grew, Shawn got more and more requests to officiate weddings himself. So in 2012, Shawn officiated his first wedding and hasn't looked back since!
From there, Young Hip & Married grew to a team of officiants, elopement photographers, relationship coaches and counsellors, and administrative staff serving couples across Canada and the United States. We've won awards, created programs and courses, officiated for celebrities, hosted date nights, and proved that love is all that matters in the midst of a raging pandemic. And at Young Hip & Married's core is Shawn and Erica Miller.
In Shawn's own words, "I love being an entrepreneur and I'm always working on ways to improve the business for our awesome couples. When I'm not working, I love spending time with my wife Erica and our four kids, camping, cooking, and speed reading without books."
On his approach to wedding ceremonies, Shawn shares, "Every love story is so unique, and I have yet to hear a love story that is not worth celebrating. My goal when I do a wedding is to represent my couples in the truest form to who they are as individuals and as a couple.
I want your wedding to FEEL like you. I want your guests to walk out saying, "Wow, that was so them!" I also want your guests to learn about why you work so well together, and why they have come to this big party in the first place.
If you have found that special someone to spend your life with, that is a remarkable thing and chances are it didn't just happen. I want to share your story with the people that mean most to you. Let's tell them a love story they will never forget."
Here's what Wedding Officiant Shawn's couples have to say about him: 
"Shawn was absolutely amazing! He was so flexible while writing our ceremony script and was really able to capture us! Everyone at our wedding couldn't stop talking about how personal and powerfully Shawn spoke. Shawn was the perfect mix of funny, serious and outrageously well spoken. It felt like he had known us for years instead of just a few months." – Emily
"Shawn and the rest of the Young Hip & Married Team were an absolute dream to work with!! We are still buzzing from our big day. Thanks for making our elopement in the woods so very special! I would highly recommend the Young Hip & Married team and eloping/micro weddings to all! Shawn was the most chill and down to earth officiant! He was the perfect fit to marry my hubby and I. Thanks again for everything you did!" – Taryn & Daniel
"We couldn't have asked for a better ceremony! Shawn was an incredible officiant and made sure that both the ceremony was wonderful and we were present and got the most out of the experience. I am so glad we went with YH&M and would definitely recommend them." – Molly & Conor
"My husband and I had Shawn Miller officiate our wedding this October and it was one of the best decisions we made by far! What a nice guy! From the beginning Shawn was friendly, personable, enthusiastic and caring. He made sure to create a ceremony that was authentic and unique to our personalities. He made me feel so comfortable that I wasn't even nervous by the time I got to the altar! Our guests are still talking about how engaging and perfect our ceremony was and assume Shawn is a long time friend of ours. Highly recommend!" – Kayzia