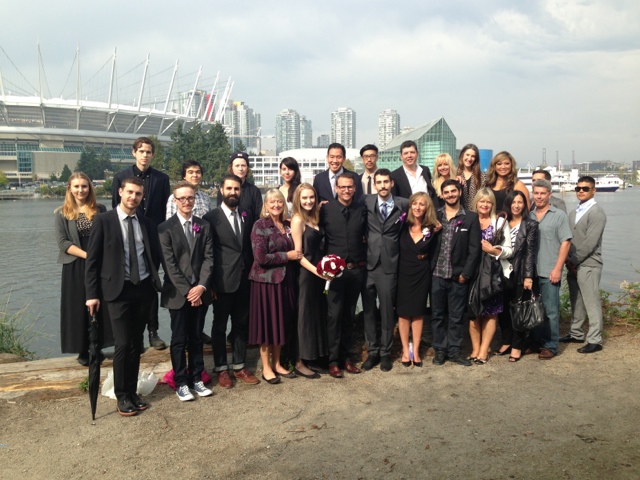 We absolutely love marrying couples along Vancouver's famous Seawall. It's the perfect spot for a Vancouver elopement with the city, ocean and mountains as your backdrop.
The Seawall is the longest uninterrupted waterfront path in the world. How's that for an epic elopement location? The 22 km path begins in Coal Harbour at Canada Place. From there it heads east, encircling Stanley Park and running along the beaches of English Bay and Yaletown. Next, the Seawall wraps around False Creek, Granville Island and the beaches of Kitsilano before joining up with Pacific Spirit Regional Park.
The Seawall is an iconic part of Vancouver's landscape and history. Construction began on the Seawall in 1917 under James Cunningham. In 1980, the part of the Seawall that loops around Stanley Park was officially completed and work began on extending the path. After renewal work in 2010 and 2011, the Seawall is now built to withstand great tides and continues to be a wonderful place for Vancouverites and visitors to enjoy.
We've had the pleasure of marrying couples all along the Seawall, enjoying the diverse scenery. The wonderful thing about the Seawall, apart from its incredible views, is the options it provides. You can head to a popular area or find something more private. If accessibility is a concern, many parts of the Seawall are easily accessed by parking lots and flat paths. The Seawall also encircles many parks and beaches, perfect for photos after your elopement.
Let's check out a few Seawall elopements with Young Hip & Married wedding officiants:
Officiant Erika weds a couple on Third Beach along the Seawall.
Irena and Craig pose for a rainy wedding day shot along the Seawall in Spanish Banks.
Mandy & Rob snuggle up at Prospect Point on the Seawall in Stanley Park.
In the below 2015 picture, Officiant Shawn from Young Hip & Married is marrying a couple on the Seawall with iconic BC Place in the background.