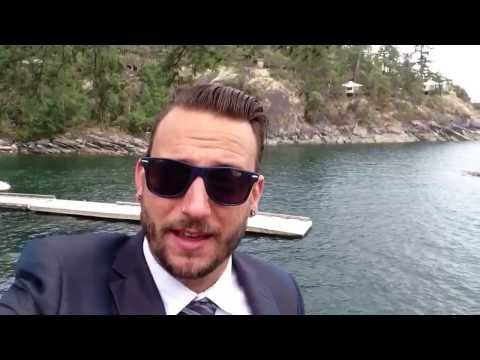 Live from Rockwater Secret Cove Resort, Vancouver wedding officiant Shawn Miller has some excellent advice for brides and grooms on their wedding day.
"Your wedding is an adventure – and nothing goes wrong on an adventure!"
Shawn shares that this advice actually came from his own mother and is something he thinks all couples need to keep in mind during the wedding planning process.
After officiating hundreds (and maybe thousands!) of weddings, Shawn has seen it all. And believes that at every single wedding he has officiated, at least one small thing has gone wrong. There's no such thing as the perfect wedding day with no hitches!
But when something goes wrong on your wedding day, you have two choices. You can either freak out and let it ruin your day or you can roll with the punches and look at your wedding day like an adventure.
On an adventure, nothing is ever a permanent failure. Everything is just part of the adventure. Sure, there are bumps in the road. But that's to be expected on the adventure! And every misstep is worth it when you look back on the grand adventure of a wedding day you got to have.
So if your aisle runner isn't staying in place or your florist brought the wrong type of lilies, if your cake showed up late or your guests get caught in the rain, or even if you forgot to wear your veil down the aisle, left your suspenders at home or forgot the rings (it happens!), your wedding day is still a perfectly imperfect adventure. At the end of the day, you'll be married and that's all that really matters!
So the advice from our wedding officiants is clear: Embrace the chaos and remember that your wedding day, and your marriage, are all a huge adventure. Enjoy the bumps along the way!
What advice do you have for couples planning a wedding?