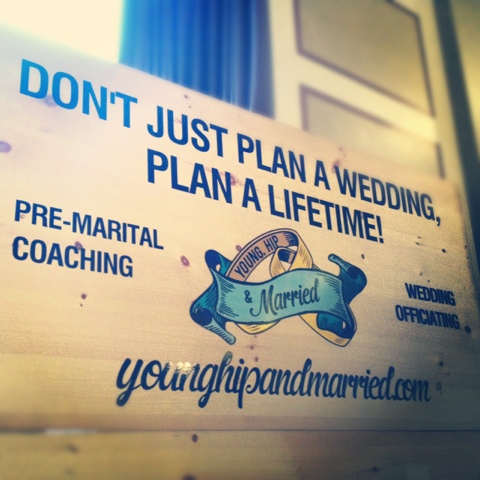 We love taking part in wedding shows where we get to meet couples, connect with other vendors and introduce people to Young Hip & Married.
Co-founders of Young Hip & Married, Shawn and Erica Miller, attended the Indie I Do Wedding Show in Vancouver and had a blast. Here are Shawn's reflections on his time:
"Thanks to everyone who came out to see us at Indie I Do. It was such a fantastic day; both Erica and I felt overwhelmed by the love and support by all of you for our business.
It is an absolute joy and pleasure getting to work with all the amazing wedding vendors and incredible couples. We love love love our business and we are looking forward to serving you for many years to come." 
We love attending wedding shows as vendors but why are they a good idea for couples? Let's find out!
3 reasons couples should attend wedding shows:
Wedding shows are a great place to meet vendors. If you prefer to connect with people face to face and see a lot of options in one room, a wedding show is the perfect place. Of course, not every vendor will be at every wedding show, but it's a good place to start.
Many wedding show booths run contests or offer discounts to people who stop by. Who doesn't love saving money?
An underrated reason to attend a wedding show is the chance to connect with other couples. Everyone else in that room is planning a wedding so they're the perfect people to ask for recommendations, swap stories and support you through wedding planning.
Tips for attending a wedding show: 
Only attend shows that align with your values. Sometimes the smaller, more niche wedding shows will have the perfect vendors for you because they're specifically catered to your interests and vision.
Have a plan. It helps to go into a wedding show with a plan in mind. Are you there to look for a specific vendor? Are you on a venue search? Or are you just looking for inspiration? You also want to have a plan for what you're going to do with all of the information you collect, such as putting business cards in an envelope or following certain vendors on social media.
Go with a small group. We suggest bringing a buddy or two along with you so you have someone to bounce ideas off of and someone to help keep you on track. Ideally, this buddy is the person you're marrying! But if your spouse-to-be isn't available, a good friend or family member is a great substitute.