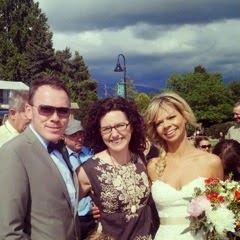 I've been an officiant, a celebrant and a part of weddings for many years, but this is my first season with Young, Hip & Married.  It is just fantastic to be a  part of such a cool team of people.  How lucky am I!

Even though I've been a part of many wedding ceremonies, this last weekend was a first for me.  It was a great learning experience in the power of love in the midst of grief.


Dylen and Chris captured my heart with their story.  They have had the strength to overcome adversity and become thoughtful and true partners to each other.  It's so beautiful and inspiring.

No one would have expected that they would face adversity and hardship the few weeks before their wedding.  Dylen's Baba passed away..  Her Baba who was a strong, energetic and wonderful women.  I'm so moved by this family.  You may think they should postpone or change the wedding date. But they are such a beautiful example of what is possible when we hold both grief and joy in our hearts. Their Baba would have been so proud.

So on the edge of Dunderave Beach, the rain clouds parted, the sun came through, and Dylen and Chris said their vows to each other with a small group of family and friends surrounding them.  There were tears, there was joy and there was celebration as these two got married!
-Lani Johnson, Officiant, Young Hip and Married