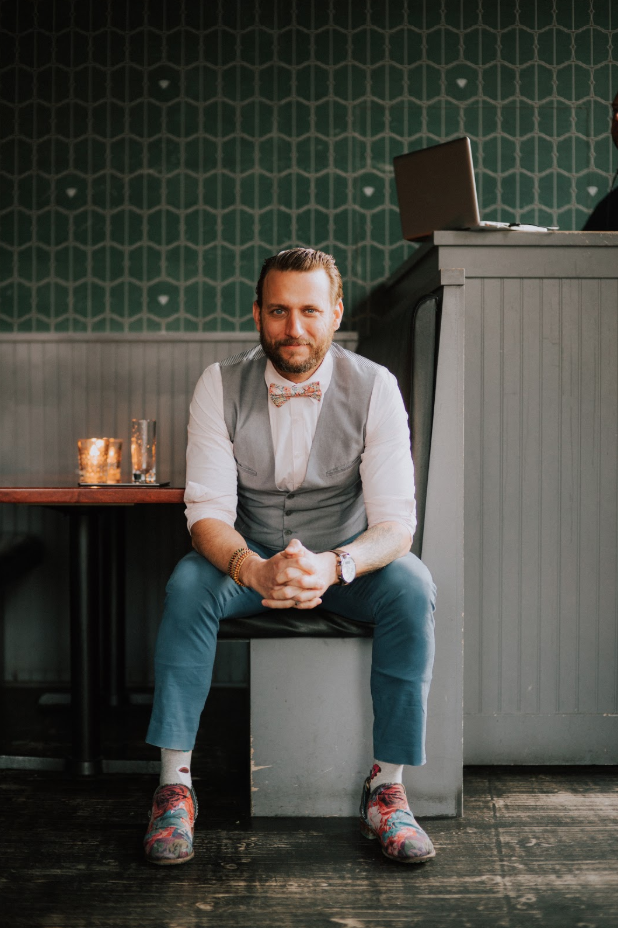 To couples planning weddings and to my fellow colleagues in the wedding industry, let's talk!
For those who don't know me, my name is Shawn Miller and I am the co-founder and co-owner, as well as an officiant, at Young Hip & Married. I'm writing this post to address something we've all been talking about non-stop, COVID-19 or the coronavirus. 
First, a bit of history. The story of Young Hip & Married starts in 2002 when I met my wife, Erica. Not too many years later, we were married and expecting our first child. After a series of failed businesses and years working an unfulfilling job at a bank, we finally found our calling in couples coaching. We started a coaching business, hired an officiant, and Young Hip & Married was born. 
We eventually settled into new roles. I got my licence and began officiating weddings, a job that puts such a huge smile on my face as I join in on the most joyful day of people's lives. And Erica grew her photography business to capture that joy at weddings. Over the last ten years, Young Hip & Married has grown to a small but mighty team of seven staff members, four partner photographers, and almost 30 officiants across British Columbia, Alberta, Ontario and into the States. I am incredibly proud of the business Erica and I have grown, and the phenomenal people we get to call co-workers. 
When news of the coronavirus began to ramp up, Erica, our four kids and I were visiting family in Florida. We were splashing in the pool and prepping for the highlight of the trip, a visit to Disney World. But as the news worsened and the travel restrictions came into place, we had to make the difficult decision to cut our trip short and return home. With four devastated kids in tow, we raced back to Vancouver. Mickey Mouse would have to wait. Luckily, we're all healthy and have been serving out our 14-day self isolation at home ever since. It's a lot of jumping on the trampoline, living room dance parties and cookie baking competitions over here. 
As the news updates kept coming, we realized it wasn't just our Disney trip that would need to be postponed. Weddings would need to be postponed too.
If you are planning a wedding right now, my heart goes out to you. In the best of times, wedding planning can be overwhelming, stressful, expensive and time consuming. But in times like this, wedding planning is a downright nightmare. My heart goes out to every couple who needs to postpone, cancel or move to Plan B. 
If you are one of those couples who needs to change your wedding plans because of COVID-19, I am so sorry. It sucks. We've been hearing a lot from couples who feel guilty about how they're feeling because things could be worse. Yes, things could be worse. If you and your family have your health, that is a lot to be grateful for right now. But that doesn't mean that your feelings aren't valid. You are 100% allowed to feel totally bummed about needing to change your wedding plans. 
At Young Hip & Married, we've always prided ourselves on caring about people over profit. And that's not going to change now. We are here for you. We want to make this situation as stress-free as possible. We want to work with you and help you bring your perfect ceremony to life (even if that ceremony has to take place a little later than you were originally planning). 
So if you have a wedding booked with us in the coming months, please reach out. I'm doing my utmost to honour our commitment to you, while also doing right by the staff, photographers and officiants who rely on Young Hip & Married to pay their bills and put food on the table. It's a difficult time, especially for small businesses who exist solely through in-person services. We appreciate your support, your patience and your understanding.
The sad reality is that bookings have come to a halt, for us and for all of our wedding industry friends, and, unfortunately, not every business will be able to weather this storm. It breaks my heart to think of companies that may need to shut their doors because of the uncertain time we find ourselves in. 
To my fellow small business owners, solo-preneurs and wedding industry colleagues, we will get through this. The wedding industry, at its core, is based on love and community. Now, more than ever, is when we need to remember this. We need to be there for one another and do what we can to push through this difficult time. 
Finally, I want to extend my gratitude. Thank you to everyone who has taken the time to read this letter. Thank you to friends and family who have reached out to support Erica and myself, buying us groceries and stocking our liquor cabinet while we've been self-isolating. Thank you to my amazing Young Hip & Married co-workers who are always just a reassuring text message or supportive email away. Thank you to our incredible couples who have been reaching out with such grace in these troubling times. Thank you to our industry colleagues who are rallying together and who always have our backs. And a huge thank you to our frontline workers who are fighting for us in the hospitals, working overtime in the labs, stocking our grocery stores and keeping us protected. 
Stay safe and well,
Shawn 
Feature image by John Yoo (iamjohnyooweddings)