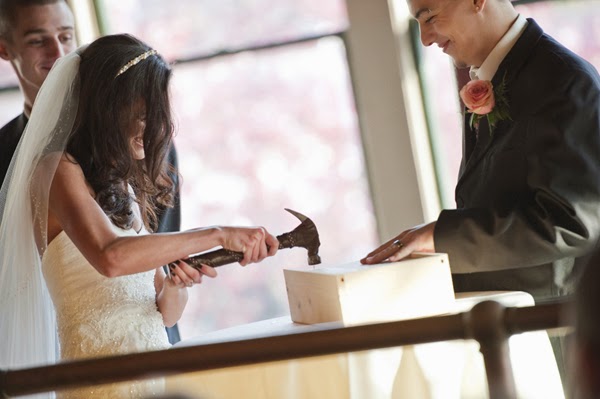 I've seen a post floating around the internet about a First Fight box.  The idea is that at your wedding ceremony you put a love letter to each other and a bottle of wine in a box and nail it shut to be opened when you have first fight.   The opening and reading of the letters are to be a reminder of your love for each other.  And also creating a nice moment in your wedding ceremony.
When I first read the article I thought it was a really sweet idea.  But once I thought about it, I realized if I had a first fight box at my wedding, we would have cracked that sucker open 3 days after our wedding!
You see we married 6 days before Christmas and put off our Seattle honeymoon until the new year.   But we stayed at a bed and breakfast to at least have a bit of something special after the wedding.  I made sure to book a romantic place with a hot tub.  However, my amazing husband did not pay attention to the owner when he explained how to work the hot tub lid.  And after being at the B&B for a few hours, we were finished using the hot tub and my husband went to replace the lid, breaking a one of kind art sculpture in the process.  I was angry and mortified.  I hid in the closet and let him deal with the owners calling off the balcony to see if everything was alright.  I was fuming, how could he have done that!  Now we had to pay for this art piece with money we didn't have!  Enter our first fight.  However, one piece of advice we were given and without realizing  it we put it into practice, was to fight naked.  So the the fight didn't last long to say the least.  Now we can laugh about it, but wow was I mad at the time.
So as I was thinking about this first fight box I thought it should be revamped.  Rather do an anniversary box. Write a love letter to each other leading up to your wedding then with a bottle of wine, nail the box closed.  Then on your first anniversary you open the box, read the letters while enjoying your wine.  It's like a built in little date.  But don't let it end there, each year add a new letter to the box with the others and a new bottle of wine.  I would have loved to have 10 love letters chronicling our love last December on my 10th anniversary.
Rather then focus on something that is negative, like a fight, which is bound to happen when two people are doing life together as a team.  Put the focus on the positive your yearly anniversary.