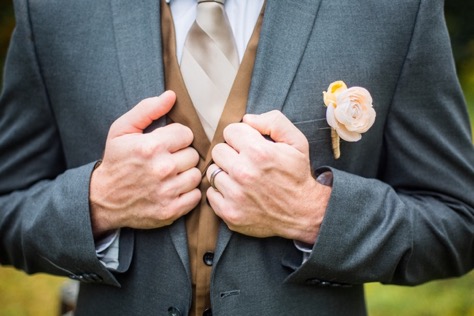 Please enjoy this guest post about finding your perfect wedding band from our friends at Manly Bands!
---
Finally committing to having a wedding is one thing but finding that perfect wedding band is another! When it comes to matters of the heart with a man, many things are pretty easy- going. However, when it comes to something like a ring that will be attached for as long as the marriage (which is hopefully forever), then perfection is a must! As with anything else, style is a must and picking out that perfect wedding band to have and to hold forever is extremely important.
Find a Quality-Focused Jeweler
When picking out that perfect ring, quality should be the first need, so finding a retailer that sells quality men's wedding bands is essential. After all, you're going to need this ring to be able to be there for the long haul! 
Pick the Right Material
There are some things to take into consideration to assure that you are making the right decision on the metal that is right for your lifestyle. For example, acknowledging the type of work you do. Do you work with your hands? If yes, tungsten or platinum metal wedding rings might be the best choice for your lifestyle because these metals have proven to be very durable, as well as scratch-proof and bend-proof.
Do you normally wear rings? If not, Titanium might be a good fit for you being that it is light-weight. But be careful; this metal is not scratch-proof and if you ever need to size down, this may prove difficult to do.
Making sure that you thoroughly research the different metals, including their pros and cons, will decide your overall happiness with your lifelong investment. You also want to make sure your forever friend is not only made of the best materials but is backed up with a warranty that guarantees its quality. This is not an option to overlook. If your wedding band is not stamped with the manufacturers' trademark, that means they do not stand behind their product and neither should you. Not only do you need a lifetime commitment from your partner, but you should also demand a lifetime commitment from your retailer as well.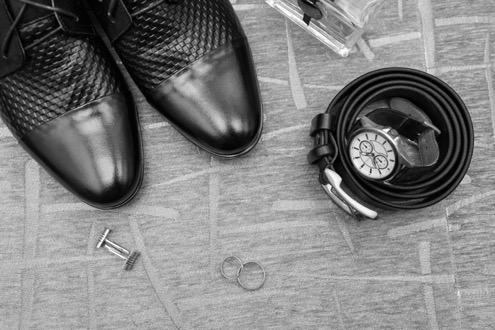 Shop Around and Know Your Sense of Style
On your shopping journey, you want to keep in mind your sense of style. Finding a ring that is as unique as you are sounds harder than it is. Step away from the traditional ring shops. Instead, mix things up a little and try something different, all while keeping your sense of style and personality front and center. Whether you prefer platinum, black zirconium, wood, titanium or even dinosaur bone (yes, dinosaur bone!), there is certainly a style befitting to your own. So don't be afraid to step outside the norm to find that perfect wedding ring merchant for you.  
Think of your wedding band like a tattoo. Although you can make changes to it later, you want the base product to still represent you 50 years down the road. With that said, think long-term. Keep in mind that trends will change over time but that doesn't mean that you must settle for a boring ring. Finding a unique band for the current you and the future you is possible. Keep in mind, having a custom design made ring is also an option! 
Don't be afraid to have fun with your design. If you are deciding between two different materials and metals, why not use both? Add in a few sleeves, colors and inlays to add texture and elegance to this work of art.  Simply put, regardless of your style preferences, there is a wedding band specifically waiting for you.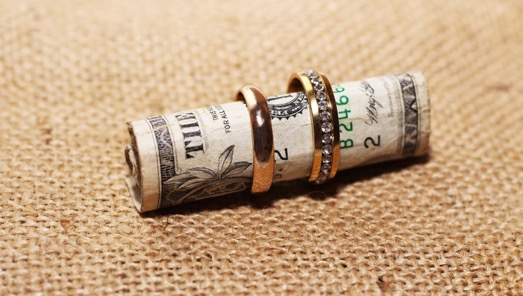 Determine Your Budget Beforehand
Another very important factor in searching for the perfect wedding band is money. Your wedding day will be one of the most memorable days of your life, but it doesn't have to put you in debt for the rest of your lives. At this point in the journey, you should have a basic idea of what type of wedding band you are looking for; now is the point where ideas start to become a reality. You will want to allow yourself a few months before the big day to try rings on, research the many retailers, compare prices and to make that final decision. You may also find yourself going back and forth between retailers, revisiting some of your top wedding bands, as you begin to narrow down your choices. 
Another factor to consider is the different tweaks you may want to add to your new piece of jewelry. Do you plan on having anything engraved? If yes, then keep in mind that engraving may add an extra month to your timeline, as well as cost you extra money, so planning is crucial. Before you start your hunt, set a budget, know your limits, and stick to those limits. Know that there are some very affordable options available. Finding those options will be the tricky part, so start your research early. 
Stay Strong in Your Budget and Style Convictions
While ring shopping, you need to be wary of pushy dealers. You want to be certain that the product being sold to you is benefiting you and not just the retailer. Be skeptical if something is being offered that is knowingly out of your budget and even your intrigue. Your best interest is not at heart if the retailer is trying to upsell you. Walk away now! No matter how much you may like something that you see, this is not where you want to give your business. Choose a credible dealer that truly wants to give you the best product within your budget.
Take the Leap and Buy the Ring
If you have followed these tips for finding that perfect wedding band, the only step left is to buy it! You've planned, you've researched, you've found that perfect item that will be featured on your left ring finger forever. Now it's time to make it, and your union, official! 
---
Author Bio: Stephanie Bregman serves as the CMO for Manly Bands. Stephanie oversees all of the marketing efforts for Manly Bands including marketing strategy, PPC, SEO, Email, social media, Influencer marketing, sponsorships, and corporate partnerships for the Lehi, UT headquarters. Stephanie currently resides with her husband and two children in Florida and loves to spend time with her family.